Strategy + Design + Development
As we build your new site, our web process ensures that the design is both beautiful and strategic, the back-end system is manageable and sustainable, and the finished product is an effective tool to support your overall marketing plan.
Strategy
Kickoff
Defining Goals
Content Hierarchy
Information Architecture
User FLows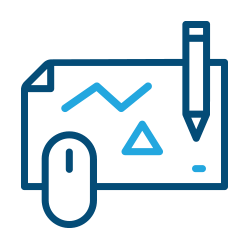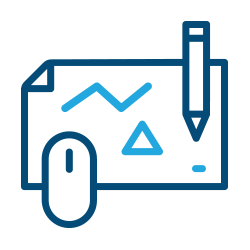 Design
Visual Design
Interactive Mockups
Design Guidelines
Feedback
Revisions
Development
Coding
Content Integration
QA Testing
Launch
Optimization
Web Strategy

Taking into account your overall brand approach, we'll work together to develop a comprehensive strategy for building your website. Our experienced team members will make recommendations to guide the flow of the site and enhance the project's success. We'll set conversion goals and strategies, explore use cases, establish user flows, and outline the site architecture and technical requirements. Our aim is to ensure your website isn't just beautiful – it's effective.

Audience
Sitemap
Wireframes
Content Hierarchy
Looking for a more comprehensive approach to solidify your brand before starting a web project? Check out our Brand Story process.
Web Design

Your website is the canvas to display your brand's personality. Through collaboration and strategy, we visually charge your core message in the digital realm. Applying creative expertise with data as the undercurrent, we develop a sophisticated web presence that effectively engages your target audience. The UI/UX design is informed by our research, driven by your goals, shaped by your brand, influenced by your taste, and awakened by our creativity.
The visual design process for a website includes:
Web Style Guide
Typography
Color palettes
Layout of elements
Grid systems
Imagery
Templates for core pages
Revisions/Iterative process
See Our Designs
---
Web Development
After completing the artistic conception of your website during the design phase, the real-world buildout begins. We take the design and translate it to clean, high-quality code that is both beautiful and lean.
Well-versed in open-source technology, our developers bring the knowledge and expertise to build a customized site that meets your business needs. Based on your business goals, we'll guide you to the platform, theme, and functionalities we believe will make your project a success.

---
Web Maintenance
Bring your design, development, and hosting under one roof with HMG! We offer fully-managed WordPress hosting services on our semi-dedicated servers, providing you 24/7 support and eliminating any back and forth between your web designer and host. Hosting with us includes a 99.9% uptime guarantee and daily backups for your peace of mind.
Leave the stress of web maintenance to us so you can focus on your business. Every month, we'll proactively monitor your site for new updates to ensure consistent performance across all major Internet browsers. We offer troubleshooting for site functionalities to make sure everything is working properly and perform daily backups for your peace of mind. We also serve as a liaison with your hosting company for quicker resolution, should any issues arise.
---
Empowerment
---
Because we believe in empowering our clients for independent administration of their site, we always aim to make your new site as automated, productive, and easy-to-use as possible. Our goal is not only to build a frontend that will remain dependable for years to come but also a backend that is manageable and sustainable.
With your business and reputation at stake, our development process hinges on quality assurance testing to ensure your website functions flawlessly, just as it was intended.
Check out our custom websites or collaborate with us on a project.
The development for your custom website includes:
Platform. Selecting the platform or CMS best suited for your business.
Customization. Building to your project requirements, including a custom theme to meet your business needs.
Responsiveness. Developing based on a solid mobile strategy and creating a site that's responsive and accessible on various browsers, platforms, and devices.
Functionality. Converting your business logic to the features and functionality you desire. Implementing code with highly specialized functionality as well as your day-to-day contact forms, blogs, e-commerce capabilities and much more.
Administration. Empowering your team with a user-friendly, customized administrative interface so you can manage the site content easily and independently. Training your team on integrated systems, including CMS, plugins, and analytics.
Analytics. Integrating Google Analytics to gain insight on site traffic and visitor behavior.
Search Engine Optimization. Building with SEO best practices in mind and installing plugins to enhance and guide future SEO efforts.
Testing. Completing pre- and post- launch quality assurance testing to ensure all assets have successfully deployed and are functioning as intended.
Optimization. Refining the site post-launch based on user engagement and behavior to continually improve and evolve.
Want to get technical?
Our developers are skilled with impressive capabilities to deliver a customized website with third-party integrations and custom functionalities. Whether the solution is basic or complex, our technical experts will build out the unique tools and features you need for an effective site that produces results.

Some of our capabilities include:
HTML5 / CSS3 / Javascript / PHP
CMS Integration (WordPress, Magento)
Analytics/Reporting
eCommerce Integration & Platform
Website Forms & Lead Capture
Membership Functionality
Blog Integration
Fully-Managed WordPress Hosting